Workshop, Estudio LOS ALMENDROS,
Costa Rica, January 7th-20th, 2018
SOMARHYTHMS:  Refining the Musicality and Functionality of Movement
Ninoska Gómez and Andrée Dumouchel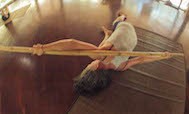 The Somarhythms approach investigates the reciprocity between the form and functions of the body through the use of balls, bamboo sticks and other objects that amplify sensations and facilitate moving with coordination, ease, pleasure and trust in one's body.  Exploring these objects helps precise and activate elusive or 'difficult to perceive' aspects of our functioning, for example, how we use our internal supports in coordination with external supports to feel effective and safe.  The Somarhythms' approach also focuses on the elusive coordination of sounding and moving and how it can bring enhanced support, clarity and coherence of movement, as well as stimulate one's musicality.  Sounding is deeply connected with our affective states, thus it reflects our capacity to express what we feel.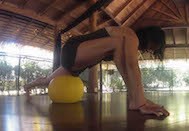 For this workshop we will further experiment the 'somatic training' proposed in the January 2017 workshop  which focused on how we use our internal and external supports, with eyes closed and while sounding and moving with the balls and bamboo sticks.  This training also included a vibratory practice, moving in the sea and practice in the embodiment of somatic words.  All the activities are preceded by Hakomi exercises which establish a safe ground in the state of  'loving presence' and  'deep sensing' by tracking one's sensations in the presence of others.
From January 7th to the 20th, 2018, Ninoska Gómez and Andrée Dumouchel, from Montréal, main collaborator since the beginning of this research, will be imparting a 50-hrs Somarhythms' workshop, 25hrs/ week.
COSTS – Lodging 14 nights, double occupancy, ($210/2 wks), plus 50 hrs of organized collective activities, $1000 or $1210, if single occupancy ($30/night or $420/2 wks), plus $50 administrative costs—TOTAL:  $1260 or $1470.    Meals are the participant's responsibility and can also be shared if the group so decides, which tends to facilitate group integration and lower the costs.   Approximate current local cost of meals for one person, per day, around $15-$20.  Reservation: $100 non-refundable, which if received by the 1o de October, 2017, will be discounted from the total cost of the workshop.
Contact us, www.studiolosalmendros.com, or in FB,  Ninoska Gómez  and Estudio LOS ALMENDROS, Cóbano de Puntarenas, Costa Rica, 506-2642-0378, 506-8515-4002;   SKYPE  ninoska.gomez1.
Andrée Dumouchel www.somarhythmes.com and in FB.